September 16, 2021
Measures Being Taken to Prevent COVID-19 Infection
新型コロナウイルス感染予防に対する当ホテルの取り組みについて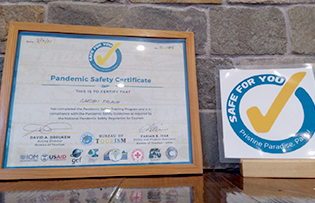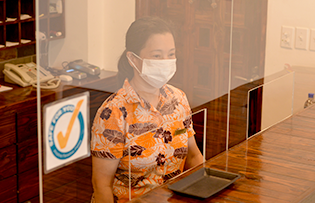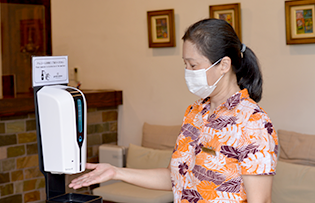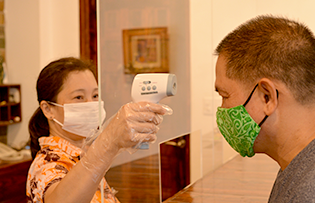 ガーデンパレスでは新型コロナウイルスの感染拡大を考慮し、以下の予防対策を行っております。またパラオ観光庁が所管する「Pandemic Safety Certificate」を2021年3月に取得し、お客様に安心してホテルをご利用いただけるよう取り組んでおります。
Garden Palace Downtown Koror is taking the following measures to prevent the spread of the coronavirus and reassure our guests. Also, we are pleased to earn "Pandemic Safety Certificate" issued by Palau Bureau of Tourism on March, 2021.
ゲストスペースでの取り組み
---
館内では、飛沫が防げるよう、ソーシャルディスタンスを考慮したご案内をしております。館内各所にて、定期的な換気を実施しております。通常清掃に加え、ロビー周辺や出入り口のドアノブ等、定期的にアルコール消毒を実施しております。また、ホテルよりお貸出しする備品は、その都度、アルコール消毒を行います。対面接客を行う際、飛沫防止としてアクリルボードを設置いたします。
ホテルスタッフに対する取り組み
---
全ホテルスタッフは常にマスク着用を義務付けております。出社前に、全ホテルスタッフへの検温を実施しております。(発熱があった場合は、医療機関へ連絡を取り指示をもらい、自宅待機とさせていただいております。)全ホテルスタッフ、及び関係協力企業様への定期的な手洗い・うがい、アルコール消毒を徹底しております。
お客様へのお願い
---
館内各所にアルコール消毒液を設置し、手指の消毒にご協力をお願いしております。ご来館の際は、可能な限りマスクの着用をお願いいたします。
Measures in guest spaces
---
– Social distancing will be observed in the hotel as a precaution against droplet transmission.
– Room airing is conducted as necessary through the hotel.
– In addition to regular cleaning, lobby, door knobs at entrances and other areas are being disinfected with alcohol at regular intervals. Any equipment lent to guests by the hotel will be disinfected with alcohol in each use.
– Acrylic panels have been installed as a droplet precaution where staff have face-to-face contact with guests.
Measures taken by hotel staff
---
– All hotel staff wear masks with them at all times.
– All hotel staff get their temperatures checked before commuting to work.
(If anyone has a fever or high temperature, he/she contacts a medical institution, receives their instructions, and remains home until he/she has fully recovered.)
– All hotel staff and service partners have been instructed to regularly wash their hands, gargle and use hand sanitizer.
Requests to Guests
---
– Hand sanitizer has been made available throughout the hotel. Please use it to disinfect your hands.
– Please wear a mask wherever possible when you come to the hotel.